It's often difficult for people visiting Sardinia to know where to stay. The island, famous for its countless beauties, has an incredible variety of landscapes, beaches, and cities that are all attractive in different ways.

In this article Bonsai B&B Alghero takes you on a trip to two of the most popular cities in Sardinia: Alghero and Stintino.
Together, we will find out about everything there is to know, from accommodation, to entertainment, relaxation and urban sightseeing.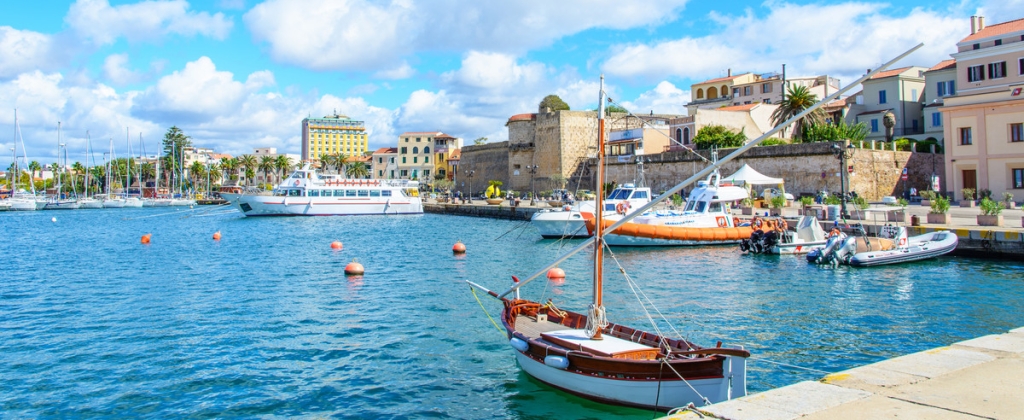 Where are Alghero and Stintino located?
Alghero and Stintino are two towns on the north-western coast of Sardinia.
Stintino is an oasis at the northern tip of the island, overlooking the famous island of Asinara, which was made into a national park thanks to its priceless natural beauty.
Alghero is located slightly further south, near Capo Caccia and the Porto Conte Regional Park. The latter is utterly charming, both from the point of view of flora and fauna and of lively tourist life.
The main urban attractions are located in the vicinity of Alghero, which itself offers numerous entertainment options to suit everyone.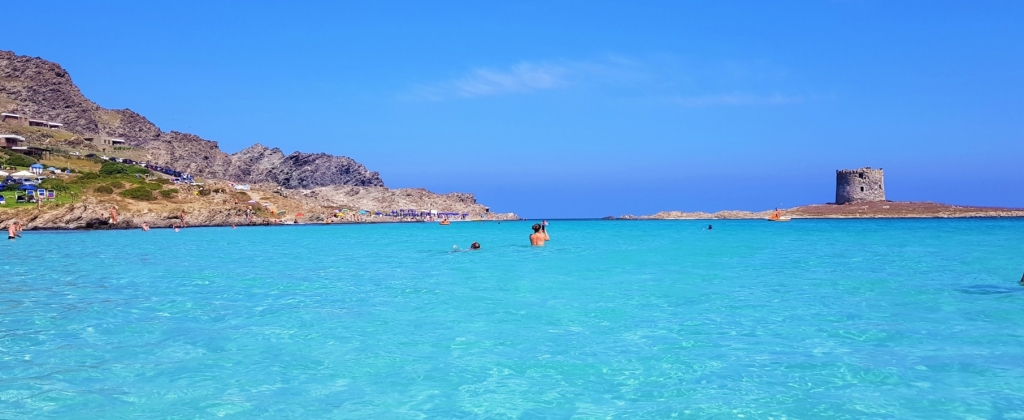 Stintino: a pristine paradise
If you have already heard of Stintino it is probably thanks to it being crowned the number one beach in Sardinia and the 4th most beautiful beach in Europe. Pelosa, with its crystal clear waters and fine, golden sand, makes it a totally unique beach in Italy. From the outside, in fact, it almost seems to be a beach in the tropics.

Pelosa beach is characterised by its shallow, crystal clear waters that are perfect for young families. Here children can play in safety, on a glorious sandy beach dotted with Mediterranean vegetation. 

Not forgetting that the beach offers something for young and old alike. There are sunbeds, beach umbrellas and SUPs for hire.
Another incredible beach is Saline. The shoreline is quite small, but what it lacks in size it makes up for in beauty. This is a classic picture postcard location, with its emerald green seas and fine white sand. The waters of Saline are always quite low, and there are no sea urchins or seagrass, making it perfect for those who want a relaxing and peaceful family holiday. The shallow water also makes it an ideal spot for windsurfing and other watersports.
Lastly, we cannot forget the island of Asinara.
It is home to over 1500 species of flora and fauna, making it one of the most Mediterranean islands in Italy. In 2002 it was given National Park status. In addition to tortoises, weasels, hares, mouflon and wild boar, the island is also famous for its whales and dolphins. The Sanctuary of the Cetaceans is a route used by whales, sperm whales, and dolphins.
In short, it is a truly unique place!
In addition to the scenic beauty, the beaches of Asinara are renowned for their shining beauty. Among the places of interest we certainly mention the Cala di Sant'Andrea, which is set in the rock and is home to the red gull, a protected species. The crystal clear waters of the Asinara vary from the emerald green that is typical of the Sardinian coastline to bright blue. It is a much wider beach than the rest of the island, with deep waters.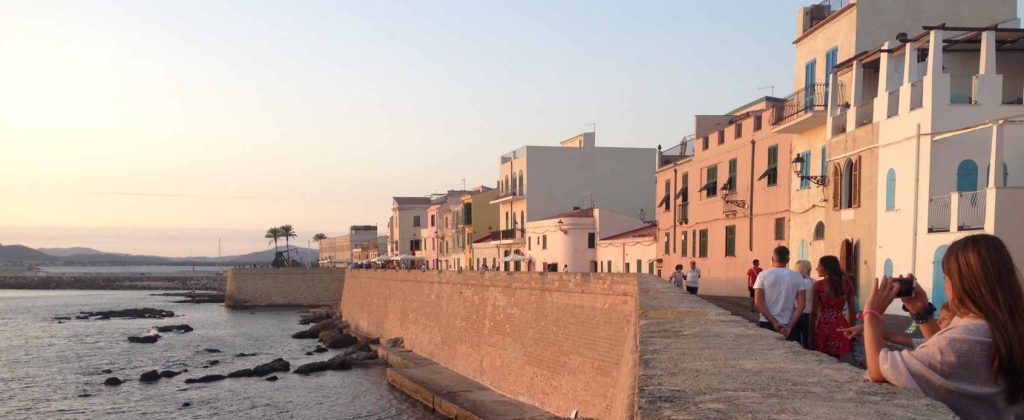 Alghero: sea, sun and fun!
Now that we have reviewed the main tourist and scenic attractions around the city of Stintino, let's move on to tell the story of the city of Alghero.
The historic centre of Alghero is known as "little Barcelona''. This is not surprising, given that the city is made up of 22% of Catalan speakers- albeit the Alghero variant- making Alghero a real linguistic treasure.
Alghero is famous for its unusual churches, like the Cathedral of Santa Maria. Dating back to the sixteenth century, it is actually surprisingly modern in appearance. The Renaissance style can be clearly seen in the exposed brickwork and in the play of light in the three Latin cross naves.The construction was designed to be imposing, aimed at exploiting the height and width of the space.
After a visit to the cathedral, you can also admire the famous majolica dome of the Church of San Michele, which is dedicated to the patron saint of the city. The exterior of this Spanish Baroque style is absolutely exquisite, while the interior is quite simple. The real gem (which made it famous as a symbol of the city of Alghero) is the cupola made of colourful majolica tiles, which were first applied in 1950 and later restored in 2007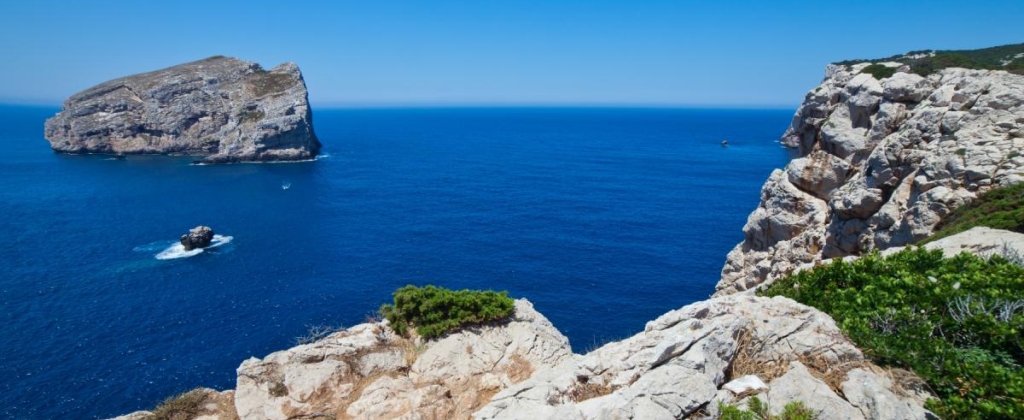 Porto Conte Park and Neptune's Cave
A truly unmissable attraction for those who love unspoiled nature is the Porto Conte natural park. It was built in 1999 on 5000 hectares of land and overlooks the sea with a sheer drop over the cliff edge, making it absolutely breathtaking.

For those brave enough, a trip to explore the caves at Capo Caccia is a must. It really is a sight to behold!
Neptune's cave is the largest and most famous, with its wide basin and hanging stalactites. From there you can also access the beautiful underwater cave of Nereo, which at 35 metres deep, is not for the faint-hearted. If you want to visit it, you can get in touch with the expert guides who will take you on a snorkelling trip.
Another incredible sight of the Alghero caves complex (though this time not underwater!) is the Green Cave. This cave is home to human fossils, together with the remains of primitive ceramics and graffiti that date back to the Nuragic era. At present (October 2022) the cave remains closed to visitors. Check local sites for updates.

Once again, Alghero delights us with its coexistence of nature, history and culture. It truly is the perfect place for a holiday dedicated to exploration and to getting lost in the immensity of the wonders of nature in all its forms.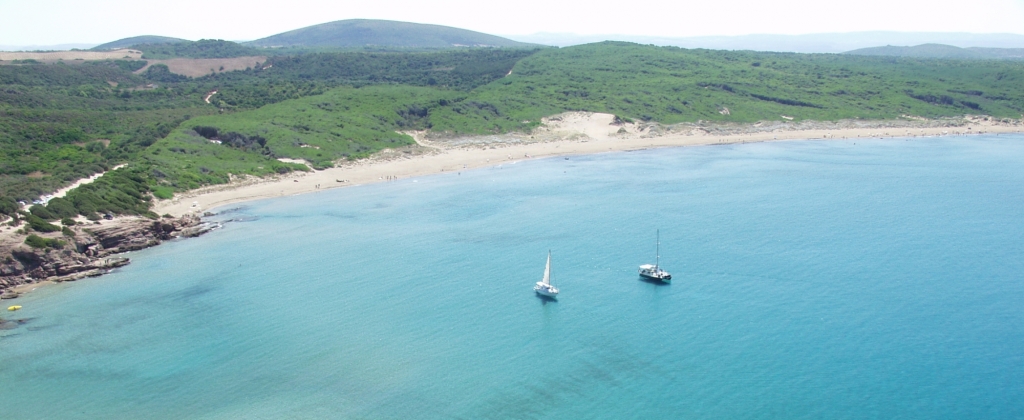 Porto Ferro and Mugoni Beach
Let's discover the main beaches of Alghero and its surroundings, one of the main draws for tourists to the island. The beach that makes the city of Alghero famous is surely Porto Ferro, which is truly unique to Sardinia.
It is a crescent-shaped bay, nestled between Capo Caccia and the Argentiera, about 20 minutes by car from Alghero. A long spit with golden grains of sand awaits you. The water is almost iridescent, ranging from the emerald green typical of the Sardinian coast to the deep blue and azure, all framed by red coloured rocks overlooking the sea. The beach is surrounded by a pine forest typical of the Mediterranean.
Porto Ferro beach was awarded Blue Flag status for three years, from 2016 to 2018. But the spectacular nature of the landscape is not only due to the clear seawater- the surrounding landscape is also unique in its beauty, thanks to its sand dunes and natural lakes. That's right: the only natural lake in Sardinia is located near the Porto Ferro beach. It is called Lake Baratz, and is surrounded by two Spanish-built watchtowers from the 1600s, originally used as lookout posts for spotting foreign sailing ships.
Porto Ferro beach is fully-equipped, with places to grab some refreshments, piano bars, and both surfing and windsurfing schools. In fact, this area is perfect for watersports, with its high waves and shallow waters.

For those who love naturism, the beach in the northern area also has a reserved section which is actually ranked as one of the best nudist beaches both in Italy and abroad.
Next we must not forget Mugoni Beach, an absolute stand-out location. Its soft pastel shades, crystal clear waters and fine sands, framed by the greenery of the Porto Conte bay make it truly special.

Another unmissable spot are the Lazzaretto and Bombarde beaches, which, despite being close to one another, are very distinct. 
Alghero or Stintino? It's a tough one.
Now that we have explored the main attractions of the two locations of Stintino and Alghero, we must begin to decide which of the two is best for you when booking your holiday in Sardinia.
They both have unique attractions to offer, but your choice depends entirely on personal taste. So, here's a summary of the main plus points of both Stintino and Alghero so that you can get an idea of the differences:
.
• Stintino is more wild and is perfect for nature lovers. The beaches are wide open and immersed in wilderness. For instance, the Asinara National Park is only a short distance away by ferry. The exceptional flora and fauna on this island make it the perfect destination for those who love exploring wild, rugged scenery. Naturally, then, it would not be the first choice for those traveling with small children or the frail and elderly. This is a place that certainly requires more effort and an adventurous spirit.

The small town of Stintino, however, is perfect for those who want to spend a relaxing holiday. In this former fishing village the age-old culinary traditions and ancient culture are still alive today, making it a perfect escape from modern life. Even here, however, tourism has certainly made its mark and it is not as sleepy as it used to be.

• Alghero is the right mix of natural wonders and cultural gems, but the real strength that differentiates it from Stintino is its nightlife. Alghero is famous among young people who are looking for a place to let their hair down, unlike Stintino, which was historically just a port and a place for fishermen and has retained this charm today. Alghero, then, is the perfect place for both nature-lovers and party goers alike. In terms of transport, Alghero is very well-equipped, and while it is easy to get to Stintino from Alghero, the opposite is not always feasible. 
.
At this point we have to answer a very common question: 'Do I really have to choose between Alghero and Stintino?' The answer is 'No'.
In fact, many of our guests at the Bonsai B&B use it as a base from which to visit Stintino, Alghero and the entire province of Sassari. Stintino is just 40 minutes by car and it's easy to reach the best beaches and attractions of northern Sardinia.
.
-> Check out our other blog articles for more useful tips on how to make the most of your holiday in Sardinia. Alternatively, you can contact us directly to book your stay at the Bonsai Bed and Breakfast and enjoy both Stintino and Alghero to the max.