More and more companies have decided to use the working method of remote working, which became most widespread during the pandemic period, encouraging their employees to accept periods of work within the home or, why not, even on holiday.
Nothing prevents you from bringing your computer with you when you travel, combining a pleasant experience of relaxation and well-being with your daily tasks.
This discourse is very topical during the summer, as the beach is a very strong attraction, especially in some paradisiacal places such as Sardinia.
In this article we will then see how to choose and find your ideal destination to carry out a profitable remote working activity on holiday and what are the parameters to take into account.
What are the parameters to consider when choosing the location?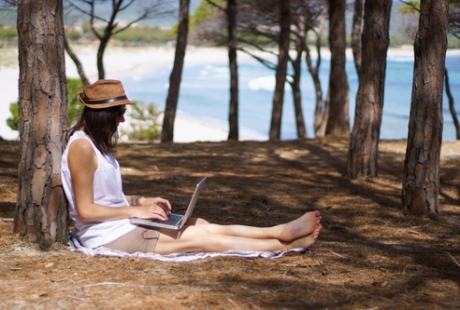 Work with a privileged view of the crystal clear sea and at the same time correctly perform the assigned tasks
You are booking a holiday, with the knowledge that you will have to dedicate time to your work, thus putting yourself in a position to carry it out at its best.
Cost of living
The ideal destination for your holidays cannot overlook the evaluation of the cost of living, to be compared to the budget available in order to establish its compatibility, especially if you decide to spend some time in the place. The advice is to establish a daily amount dedicated to the holiday and start from this parameter to find a location with a suitable cost of living and maybe a mesmerising view, too.
Activities and leisure
It is important that the chosen destination offers a series of activities that are congenial to people; we are talking about hiking routes for mountain lovers, surfing or water sports for those who love the sea, or simply white and sunny beaches for those who just want to relax and enjoy free time without commitments.
The focus must therefore be a mix between the possibility of working in comfort, putting yourself in a position in which you always have an internet connection available and a suitable location, and a series of interesting activities that can be enjoyed when working hours are over or the tasks of the day are finished.
The climate
What could be more wonderful than escaping from the grey and rainy city to take refuge in a sunny place and a mild climate?
The choice of location also depends on the weather conditions, with some places in the world that it is better to visit in certain predetermined months, thus avoiding thunderstorms or adverse weather conditions.
In this sense, Sardinia is a privileged destination, which in summer offers high temperatures but also a pleasant breeze, while in winter the degrees marked by the thermometer never fall below a certain threshold.
Warm and breezy summers and mild winters, this and much more is ensured for one of the largest islands in our country, which is not only known for its beaches with an exotic flavour but also for the variety of its landscapes, since in just a few minutes driving you can switch from the coast to the mountains.
Internet connection
Despite the fact that holidays are about relaxation and fun, if you bring work from home and you have to devote a few hours to remote working, you should not forget the crucial factor of internet connection.
Precisely for this reason, the choice of accommodation is essential to ensure comfort and tranquility, especially if the Wi-Fi network also extends to the common areas and therefore you can position yourself outside and enjoy the mild climate, the good weather and a privileged view of the surrounding scenery.
Opportunity to find coworking spaces
Sometimes the choice of the perfect destination that combines pleasant holidays with remote working is linked to collaboration with other colleagues.
If you have set dates to work together on a project or take stock of a situation during a meeting, it is important that the chosen location has areas dedicated to cooworking.
This framework still includes the selection of the best accommodation, as it would be appropriate to have a meeting room or a conference centre that can be used at will by customers.
In this way you can also organise team holidays, with the possibility of carrying out your work adequately and at the same time relaxing all together, increasing team spirit and defining a group from various points of view.
Why choose Sardinia as the ideal destination for remote working on holiday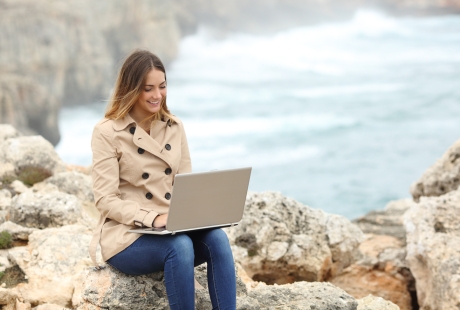 In light of the parameters mentioned so far, Sardinia appears to be the ideal destination for organising your holidays combined with remote working.
Let's see why we prefer it to other options and what are the advantages from which you can benefit in each season of the year.
Excellent quality of life
Sardinia is appreciated by tourists from every part of the world not only for its breathtaking landscapes but also for the excellent quality of life that can be enjoyed, especially if you avoid the more crowded months, such as July and August.
We are talking about an ideal location in spring or autumn, because the sun shines high in the sky for most days and the traffic is almost non-existent.
Favourable climate
Sardinia is the ideal destination for your next remote working holiday, as it has a mild and pleasant climate.
Summers are never excessively hot, due to the breeze that blows almost every day, while winters take some time to arrive and the beach season sometimes lasts until November, resuming in April.
The climate is a factor to be taken into account, as a sunny day increases good mood and energy, encouraging you to work with more positive influence.
An interesting food and wine offer
Sardinia is one of the most appreciated regions from a food and wine point of view, as it combines meat dishes in the hinterland and fish on the coast, to be accompanied by excellent traditional wines that are among the best-known on the planet.
Among the most well-known dishes are malloreddus, seadas and pork, seasoned with the authentic flavours of the land.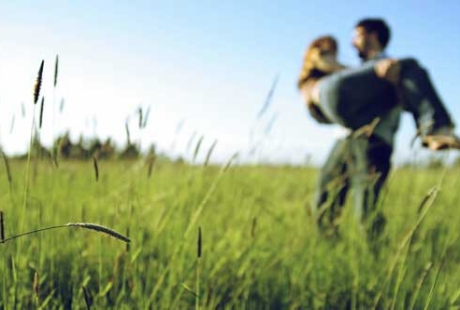 Contact with nature
If you need to clear your mind and forget the concrete of the cities, few locations are better than Sardinia from a naturalistic point of view.
After the hours spent working remotely in a relaxed atmosphere, you can dedicate yourself to your favourite activities during your free time, which can include the discovery of small, isolated beaches and interesting hiking trails for the changing flora and fauna that characterise them.
Wide variety of outdoor activities
Choosing Sardinia is the winning solution also from the point of view of the variety of activities that can be enjoyed during visitors' free time.
The options begin with a series of fun and fashionable water sports, such as surfing or canoeing, which allow you not only to keep moving but also to discover the area with a privileged view and at a distance from the crowded summer months.
How to choose the ideal accommodation for remote working on holiday
Once you have established that Sardinia is the ideal destination for your holidays and remote working, it is time to find the accommodation that is exactly right for you.
How to select the best hotel for your work needs and beyond?
Fast and powerful internet connection
If you choose to carry out your work on holiday, you will have to ensure you will have suitable conditions in which to work.
So make sure that the accommodation you have chosen has a Wi-Fi network that reaches both the rooms and the common areas, so as to allow you to work outside if the weather allows it.
Placing yourself in the situation of being at the computer while at the same time being immersed in nature is positive for the mind and allows you to feel less fatigue.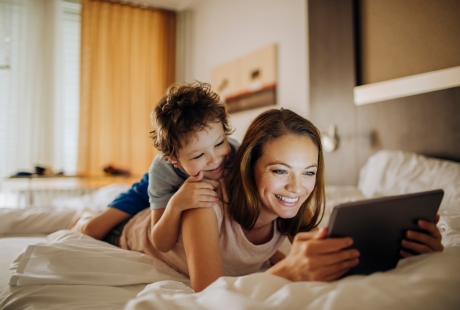 Privacy 
When working, you often need the maximum concentration and therefore choosing an overcrowded or noisy accommodation could be counter-productive.
At the time of booking, request a quiet and secluded room, possibly with a terrace overlooking the outside to enjoy the open air, even if you must necessarily work inside the room.
Support
Especially if you choose to spend a long period of time working remotely in Sardinia, it is important that your chosen accommodation offers a good support service and is ready to meet the needs of the customer.
Now that you have a more precise idea of how to choose the ideal location for your remote working, you just have to book the best solution from the point of view of value for money.
Wherever you go, you will enjoy the best of hospitality and a food and wine offer that has few rivals in the world, without neglecting your work obligations, if you just select the accommodation according to the parameters mentioned.
It only remains to wish you the best of luck in your work!